Only 12 Left In Stock - Order Soon. Get Free World-Wide Shipping While Stocks Last!
WHY IS THE ONE-STEP PRO™ THE WORLD'S BEST-SELLING HAIR DRYER?
The NEW One-Step Pro Hair Dryer and Volumizer is a designer Hot Air Brush to deliver gorgeous volume and brilliant shine in a single step. The unique oval brush design smooth hair while the rounded edges quickly create volume at the root and beautifully full-bodied curls at the ends in a single pass, for salon blowouts at home.

LESS TIME, MORE VOLUME. YOUR PERFECT HAIR UNDER 10 MINUTES
Do you have tired shoulders from holding up a dryer and a brush for what seems like an eternity? Dreaded to do your hair EACH and EVERY Morning? Let One-Step Pro™ blow dry your worries away by giving you silky hair you deserve. 

"If you struggle with an over abundance of hair like I do, seriously consider giving this amazing contraption a try."
NAOMI S.
Frizz-Free Hair, Straight Roots, Super Bouncy.
"To my disbelief, when I was finished with my hair, it looked as if I had just left the salon! It was completely straight, smooth and silky without a flyaway in sight."
MB.

Get Gorgeous Blowouts, Big Enviable Waves, Striking Straight Locks, and a Perfect Look, You Name It, You Got It!
"I just used this for the first time and WOW. I ended up with smooth, shiny hair without using a flatiron. I'm all in on this - pretty sure I will never go back to a regular hair dryer."
EMILY C.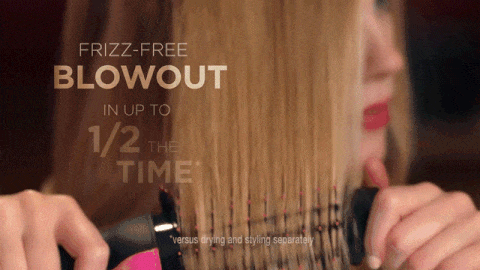 IONIC TECHNOLOGY
Negative ions saturate the airflow to reduce the size of water droplets for faster drying. This helps condition, smooth and make hair shinier while reducing frizz and static.
LESS TIME, LESS DAMAGE
DRIES AND VOLUMIZES IN ON STEP FOR LESS HEAT DAMAGE AND BEAUTIFUL FULL BODIES RESULTS.
DIAMOND CERAMIC COATING
Protects hair from over-styling with even heat distribution that penetrates hair quickly from the inside out for less damage and enhanced shine.
Unique Airflow Vents - Enhanced design for faster drying and better coverage.
Oval Design - Gently curved sides for smoothing and round edges for smooth volume and curled ends.
Multiple Heat Settings - Complex drying and styling flexibility for all hair types.
Lightweight, Ergonomic Design - For maximum comfort and ease of use during styling.
STYLING TIPS
Step 1:

 For Faster results, towel dry hair to remove excess water, then run a comb through a damp to detangle for best results.

Step 2: 

Separate hair into manageable sections.

Step 3: 

For Smooth Blowouts, place the volumizer close to the roots and brush down toward the ends.

Step 4: 

For Voluminous blowouts, place the volumizer under the hair close to the roots and roll outward to the ends. For Extra lift at the roots, hold the volumizer for 2-3 seconds under the roots.

Step 5: 

To curl ends IN, place the volumizer under the ends and hold for 2-3 seconds before rotating inward. To curl ends OUT, place the volumizer OVER the ends and hold for 2-3 seconds before rotating outward.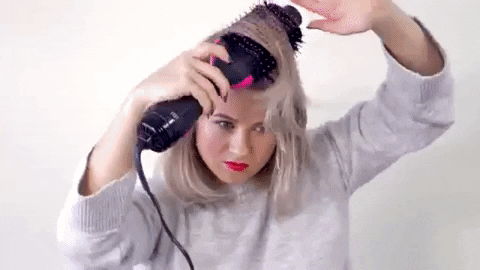 Only 12 Left In Stock - Order Soon. Get Free World-Wide Shipping While Stocks Last!